8 Best Fake Temporary Email Generator With Free Inbox
Looking to generate temp mail for personal or any other use? Great! We've got some of the best Fake email generators that you can use to generate an unlimited number of temp mails or widely known as disposable email addresses along with a free inbox where you can receive emails. There are plenty of conditions where we may look out for such temporary email, like creating an account of forums, specific services and so on.
The services we are about to recommend are completely free to use and you can create as many fake emails as you want, there is no limit at all. Fake mail generator services won't ask you for any registration. These websites are ready-made, you can get started just visiting them. We hope that our readers would find this list helpful. If you have something better, drop your comments at the bottom, which will help other readers.
Why Fake Detail Service?
You can use fake detail mail in some ways, for example, signing up on an un-trusted website, signing up for a service to get multiple trial periods, providing emails to the services to get an offer multiple times or in any other way you want.
Creating temporary emails is very easy there is no need to create them, all you need to do is visit one of the best fake email generators and you will be assigned a temp mail immediately.
These are all fake mails and you can use them for various purposes, keep one thing in mind that if you are using a temp mail for signing up on a website then do note it down somewhere so that you don't forget it.
8 Best Temporary Email Generators In 2019
Let's just begin with the best and top-most fake mail providers, do tell us which one you use and which
temp mail service works the best for you.
Fakedetail.com
This is one of the simplest temp mail generators. The UI of this fake email generator is quite simple and clean. You don't need to worry about looking here and there to find options like refresh, copy, delete because all these features are there on the main screen. I've been personally using this website for a long time.
This website serves simply to understand features and working. Users just need to open this URL into the browser and start using this temp email service.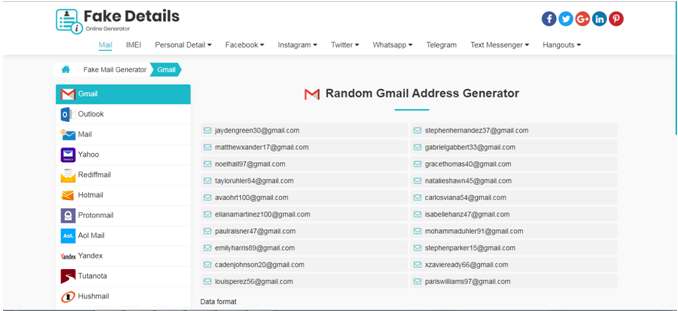 Along with English, this service is available in 13 more languages, so, if you are unfamiliar with the English language, then you have got other options as well.
Tempmail.com looks cleaner than the previous one and there is a benefit of using this fake mail service and that is, it refreshes the email inbox every 10 seconds, which means you don't need to hit the refresh button time and again to check newly received emails.
Fakedetailaddress.com
This disposable email generator sends you a welcome message as soon as you visit the site and get one fake address, a nice gesture though. You can set the expiry of your fake temporary email according to your wish.
Like the previous one, it also refreshes the inbox every 10 seconds. The expiry time for your temporary email keeps on running and you can see how much time is left before it expires, if you work is over then you can delete it by clicking on the delete button.
Guerrillamail.com
This one is quite popular with a good reputation among fake mail users. It gives you the choice among 11 domains. Not only for receiving but this temporary disposable email service can be used for sending mails as well.
At the time of writing this, the website has processed over 5,893,447,333 emails. The stats say a lot about the popularity and trust factor of this service.
There is also an android app with the same name on the official play store, go ahead android users.
Yopmail.com
Unlike other temp mail services, this won't give you a temporary email as soon as you visit the website but it provides you the feature to type the email name of your choice, this makes it more reliable since you can get some genuine looking disposable email addresses.
The inbox looks more professional as compared to other sites but there is one drawback, as soon as you enter the inbox you will see some random spam messages.
Dispostable.com
A nice, clean and easy temporary email generator. Visit the website and type the email name of your choice and click on "Check inbox".
A good service, if you want to experience hassle and ads-free service then this is the one for you.
10minutemail.com
The name says it all. The temporary emails generated through this service last for 10 minutes only and after that, it vanishes, not good for those who need more time. However, you can request more 10 minutes by just clicking on a button right there.
Getairmail.com
This is one of the finest and trusted temp mail generators. The email inbox keeps on refreshing every 10 seconds. The best part is that you can access your temporary emails and inbox on this service using a unique URL later on also.
You also have the facility to change the email address in between. These are the best temp mail generators to get free, disposable temporary email addresses instantly without any signup. Get your temporary email now.
So, that completes our list of best free temporary email services that easy to use and offer flexibility. Regardless of the fact, whether you're using a computer, tablet or mobile, these websites can be accessed and used readily. Don't forget to share your favorite site with us, we would love to hear your thoughts and use them to