ASEAN countries doors are open for highly-skilled and wealthy expats
In Southeast Asia, countries are slowly opening their door to welcome highly-skilled and wealthy expats to the country. Governments welcome expats with money, saying, our countries are open to you.
But why are countries in ASEAN economic community eager for expats to come into their respective countries? 
There are a few reasons for long-term visa (LTR) opportunities, such as economic growth, investment in real estate, and ease of setting up businesses, but the main reason is traced back to the pandemic. Since the pandemic started, emerging markets in Southeast Asia's growth has halted poorly. 
For example, Singapore, a financial hub of Southeast Asia, traditionally had drawn plenty of expats to its city-state, because of its low taxes and role as a regional headquarters for a range of industries, according to Bloomberg.com. However, in 2021, many expats left Singapore, the highest exodus of skilled workers since 2010, amounting to 30% of its population.
The data above represent emerging markets such as Thailand and Malaysia adapting to lure back skilled expats. All three countries are aggressively one-upping another to promote their most solid long-term visas. 
Freedom for Remote Work
The new term "remote working" gained massive momentum during the pandemic. Employees realize they can work from home or anywhere with a decent internet connection. Southeast Asia has some of the best countries to work remotely providing outstanding work-life balance. These new long-term visas coming out from the region have extra incentives. 
The extra incentives for the three countries mentioned above include studying, working, and setting up businesses.
Malaysia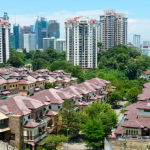 Malaysia provides two long-term visa schemes for expats to live in the historical country. The first type of visa is "Malaysia My Second Home" (MM2H). The visa program is for expats with a monthly income of RM 40,000 (USD 8,786) and a deposit of 1 million ringgit. 
The new visa scheme is the "Premium Visa Program," starting on September 1, 2022. This visa program is for countries that have diplomatic ties with Malaysia. According to the Malaysia "Immigration Department, they quoted "the schema is open for global typhoons." 
The "Premier Visa Program" requirements are for expats with an annual income of USD 105,300 or at least 480,000 ringgit. Additionally, you must deposit 1 million ringgit into domestic bank accounts. After obtaining the visa for a year, expats must use half the deposit for schooling or real estate. 
Singapore 
The cit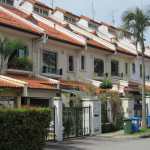 y-state packs a punch with a great food scene, excellent infrastructure, and low tax rates. A financial hub in the region with a strong currency is enticing a new visa called "Overseas Networks and Expertise" pass for high net worth individuals and highly skilled workers with their spouses. 
High-skilled workers in technology, science, and sports are the priority in the city-state to receive "Overseas Networks and Expertise" visas. However, expats with a minimum monthly requirement salary of USD 21,500 or S$30,000 are eligible for the visa, valid for five years. Unlike Malaysia, the visa scheme is valid for 20 years. 
Thailand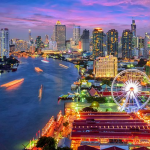 The land of smiles, a food paradise, beautiful beaches, and framed nightlife launched a new visa scheme on August 31, 2022. The new visa scheme in Thailand is for expats with a minimum requirement to invest in property in Thailand for USD 500,000 or in government bonds. Secondly, expats who are retired over the age of 50 and have a minimum income of USD 50,000. Lastly, a digital nomad working in the tech or financial industry with job experience of over five years with an annual income of USD 80,000 or higher.