Top 10 Things You Should Know About St. Martin & Vacation Rentals
St. Martin is a beautiful Caribbean island that is ½ Dutch & ½ French with the Caribbean Sea on one side and the Atlantic Ocean on the other side. 2.5 million tourists travel to this tiny island annually from around the world to relax under the sun, enjoy fine dining and marvel at the magnificent marine life. The island is 37 square miles, with Dutch St. Maarten to the South covering 16 square miles and French St. Martin to the North covering 21 square miles. It is one of the smallest landmasses to be shared between two nations. St. Maarten, a country within the Kingdom of The Netherlands, and St. Martin, the French Overseas Collectively of St. Martin.
What makes the Island so beautiful attracts people to repeat visit?
Unlike many destinations the uniqueness of St Martin makes tourists plan a repeat visit year after year.  Many beaches, excursions, water sports, night life and other tourists' attractions, and the local people make the island a perfect destination for vacationers.  St Martin is called the "Friendly Island" because its people are so welcoming to guests. Local people will surely steal your heart and carry smiles on their faces. St. Martin island becomes an even more attractive place to vacation because of the wide variety of affordable to luxury vacation rental homes, condos, and hotels. You can even relax in the finest multimillion dollar villas with a private chef, at an reasonable price.
Two different countries (Dutch side and French sides) peacefully own this small island.  While 67.5% of the locals speak English, the official languages are Dutch and French. Spanish, Creole, French, and Papiamento are the other most spoken languages in Sint Maarten.
But before planning your trip, we will share with you Things You should know About St. Martin and the vacation rentals you are going to rent.
In this article, you will discover:
Where is St. Martin? Where to Stay in St. Martin
How to find a perfect vacation rental in St. Martin
What Makes St. Martin Vacation rental so special?
Best beaches near St. Martin vacation rentals
The top attractions near St. Martin Vacation rentals
What is the perfect time to book St. Martin Vacation Rentals?
Dining on St. Martin
Nightlife in St. Martin
Activities and things to do in St. Martin
So, let's dive in!
Where St. Martin is located
Saint Martin, Dutch Sint Maarten, French Saint-Martin, island, lying at the northern end of the Leeward group of the Lesser Antilles in the north eastern Caribbean Sea. The island extends about 12 miles (19 km) from north to south and about the same distance from east to west, including a narrow looping sand spit that extends westward from the hilly main part of the island. It rises to a high point at Paradis Peak (1,391 feet [424 metres]) and has an area of 34 square miles (88 square km). The island receives about 45 inches (1,140 mm) of rain annually. The southern third is tied historically and administratively with the Netherlands, the northern two-thirds with France.  It is about the same latitude as Hawaii in the US.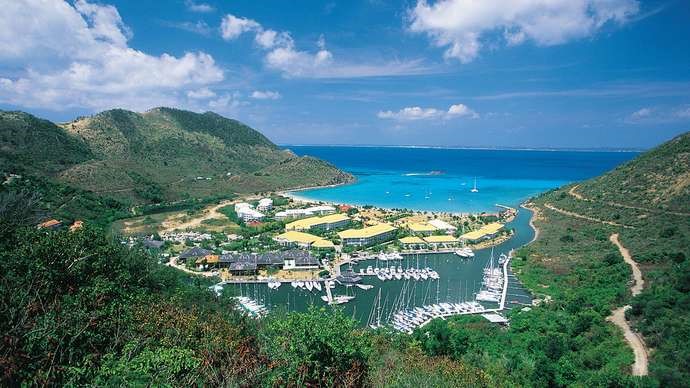 The friendly island is just a few kilometres away from Anguilla and about the same distance from St Barth. The border between the Dutch and French sides are completely open.  Much like traveling between states in the US. You will not need to carry a passport to move from one side to the other. The North side of St. Martin is French and filled with restaurants, beaches, duty free shopping and the finest rental homes and boutique hotels in the Caribbean. The Dutch side has more high-rise condos and the lots are zoned smaller, but it has many beautiful beaches, casinos, and night life. You will enjoy the lively culture of both the countries' sides at affordable prices.
The Island of St. Martin has surrounded by gorgeous beaches, water sports, swimming pools, vacation rentals, and offers many more activities. The French Lowlands, Simpson Bay, Orient Beach, Oyster Pond are some of the most popular areas of the island.  Wherever you stay there are, white sand beaches, clear blue sea water and stunning vistas nearby your accommodation.
St. Martin is famous for many different cuisines at top restaurants, which serve gastronomical delights to every vacationer who comes to satiate their taste.  But do not forget the delicious local food.
St Martin vacation rentals
St Martin has hundreds of vacation rental accommodations for every budget.  There are luxurious villas that offer a personalized experience to their guests. Many villas are situated on large 2.5 – 5 acre lots, in tropical settings, that are extremely spacious, private, and peaceful, offering an intimate vacation experience. Other rental units are in more densely populated areas on smaller lots.   The difference is reflected in the price of the vacation rental.   There are also numerous vacation rental condos at affordable rates.
Where to Stay in St. Martin
Reserving a villa in St. Martin is best to give you the privacy, space and amenities to make your stay most enjoyable.  You can reserve your private home away from home, many with private pools, Jacuzzi, private gym, tennis and many more relaxing amenities.
Luxury villas come with art works, entertainment centers and other activities. Just imagine having a sip of wine, holding the hand of your better half, or relaxing in a hot tub with your partner! Some additional interesting features like a sauna, a private theatre, private spa and outdoor games may just blow your mind. If you are a fitness freak, a spacious private gym may be available to help you achieve your fitness resolution while on vacation.
Luxury condos in St. Martin are also an ideal accommodation for one – three couples seeking a getaway.  With the utmost in luxury, these spacious condos can provide complete privacy.  They offer fully equipped kitchens, huge living spaces, spa like bathrooms and often include ocean views.
If you are planning to relax on a beach, vacation rentals are a perfect accommodation. During your sojourn, you can also enjoy the nightlife and casinos.  You have a chance to explore the island and experience European food and many delicious world class cuisines from around the world.   Shopping malls, local markets, gorgeous beaches, sunset views are all on one island.
Here are some Famous sites you can Enjoy the top Tourist Attractions.
Philipsburg
Philipsburg is the capital of Dutch St. Maarten. Bargain seekers flock to the duty-free and sales-tax-free stores of Philipsburg's mile-long commercial district. Visitors also enjoy the city's art galleries, historic forts, and casinos, as well as Great Bay Beach and its boardwalk. In addition to historical sites, there are unique street arts, shopping malls, bars, and eat in restaurants.  In the shops you can buy high-end items Zenith, Patek Phillipe, Rolex, Messika, and lots more, all of which are duty and tax-free.
Offshore, at Bobby's Marina guests can work as part of the crew on one of five boats used in the 1987 America's Cup competition.  This is the 12 Metre Challenge, one of the top Caribbean excursions.  Philipsburg is designed for cruise ship passengers who disembark between 8 AM – 5 PM to take in this city. When the cruise ships are in port the streets are closed to vehicular traffic and are perfect for pedestrians.
Simpson Bay
Simpson Bay area, which includes the residential areas of Bourgeoux Bay & Pelican Key.  It is home to Simpson Bay Lagoon one of the largest inland lagoons in the Caribbean.  This is where several marinas accommodate some of the most beautiful yachts in the world.  There are many restaurants, beach bars, groceries, shops, casinos, and water sports activities, conveniently located near the many hotels and small guest houses.  There are also numerous vacation rental villas and condos in this busy, commercial area.  If you love to dance, imbibe, and listen to music, this is the hot spot in St Martin.
Oyster Pond / Guana Bay
Oyster Pond and Guana Bay are quiet no commercial areas on the south east end of the island.  Dawn Beach is the largest beach in this area, close to the Westin Hotel.  Other smaller beaches include Guana Bay.  There are many vacation rental villas in this area in gated residential communities.  This location is about 15 minutes from Philipsburg, 15 minutes from Orient Bay and 30 minutes from Grand Case (Gourmet Capital of the Caribbean.  Villa in this area offer seclusion with gorgeous vistas and nearby beaches. Dawn Beach is a protected marine reserve, so no water sports other than snorkelling.
Marigot
Marigot, is the capital of the French side, where you can enjoy shopping and dining in numerous gourmet restaurants, bistros, cafes, and local food restaurants.  The marina allows for smaller yachts, and sailboats and includes a port with ferries to Anguilla and St Barth.
Pic Paradis
Pic Paradise, which has surrounded by lush green jungle, is the highest point of SXM (424 m). It is accessible by road and you can enjoy your daytrip in a tropical forest with wild green monkeys, and tropical birds that will indeed make your day unforgettable.  Enjoy a visit to the Lotterie Farm for lunch, dinner or a dip in the spring water pool while chilling in your private cabana.
Grand Case
Grand Case is a former fishing village that is now the Gourmet Capital of the Caribbean with nearly 40 high end and local restaurants along the beach.  If you love food, Grand Case is the best place to visit. There are a few boutique hotels in town and nearby in Happy Bay there are several 3 – 5-bedroom vacation rental villas just minutes' drive away.  You will find boutique ladies shops with unique clothing and costume jewellery you will want to take home.
The places mentioned above are popular, where you can make your stay and enjoy St. Martin's culture.
How to find a Vacation Rental on St. Martin
You can find St. Martin vacation rentals to match your budget and needs. Rental homes offer more personal services, space, privacy, and amenities when compared to a more expensive hotel or resort.  Generally, the best value for a villa is when you have four or more in your travel party.  While one or two couples are more likely to reserve a condo or town house.  While choosing a vacation rental, you must decide where you want to be located on the island. Like in all real estate, location is everything.
Depending on your interests and budget, a vacation rental is the perfect option to create a memorable vacation experience. St Martin Reservation Center offers hundreds of villa vacation rentals, condos, and apartments at affordable rates. You will not pay additional for some extra amenities because most rentals include lots of services.
So, where would you to stay now?  To book vacation rentals, the island experts at St. Martin Reservation Center can save you time and search to find you find the perfect St Martin vacation rental.
What Makes St. Martin Vacation rental so Special?
St. Martin vacation rentals consist of various villas, condos, town homes and apartments. Huge living areas, fully equipped kitchens, flat screen TVs with cable or satellite, private or resort style pools, housekeeping, bedrooms with ensuite baths and private terraces or patios are just a few of the amenities and features of a vacation rental.
Rental homes offer a living room, multiple bathrooms, equipped kitchen, and dining rooms. Moreover, you will have a well –equipped kitchen to prepare your own meals.  Many guest love that they don't have to share a bathroom as most are ensuite.  If you want a peaceful, private vacation experience, choose a vacation rental to feel like you home away from home.  Let the island experts at St Martin Reservation Center organize your search to save you time.  There is no charge for this service.
Best Beaches Near St. Martin vacation rentals
Most first-time visitors want to reserve a vacation rental directly on the beach. But with few exceptions, these are the more expensive properties. The good news about St Martin is no property is more than a few minutes' drive to a great beach.
Here are some of the best beaches near St. Martin vacation rentals.
Mullet Bay
Dutch Side – Caribbean Sea
This beach is one of the nicest and most popular beaches on the island. It is very wide depending on the tide, has great waves and always has great activity. A small open walled food stand with beer, soda, chicken, ribs and snacks on the beach also provides beach chairs and umbrellas for rental.
Orient Beach
French Side – Atlantic Ocean
Do you enjoy Monte Carlo, St. Tropez or Nice? If your answer is yes, you will love Orient Beach, THE most popular beach on the island. On the hillside, several vacation rental villas & hotels provide spectacular views of the bay and the surrounding islands.
On the beach, smaller hotels, restaurants, and shops create a whirlwind of activity. The open-air restaurants have no walls and separate themselves from each other with different color umbrellas and lounge chairs. In Winter Season, they are very busy; so, reserve a good lunch table by 11:15 A.M. If you prefer lunch on the beach, a waiter will place a small table by your lounge chair and serve you. Cushioned chairs and umbrellas populate the beach, parasailers populate the sky, jet-skiers, windsurfers, swimmers, and wave-runners populate the water, and people watchers are everywhere.
This is a beautiful, wide, crescent shaped, mile and a half long beach with clean white sand. Several small islands visible across the bay promise adventure for people with imaginative minds and a small boat. The bay is an underwater marine reserve; so, snorkeling and scuba diving are fascinating. Topless and nude bathing is appropriate at the south end of the beach.   Orient Beach is the place to be seen, meet people, and to watch bathers strut their stuff. With or without clothes, it's a great beach!
Maho Beach
Dutch Side – Caribbean Sea
Maho Beach, which is just adjacent to SXM airport, is highly popular.  Locals and vacationers alike are gathered to see the planes take off. You will also love the Sunset Beach Bar for live music, burgers and a cold beer.
Kim Sha Beach
Dutch Side – Caribbean Sea
If you love to party, then you will not want to miss this beach.  On Kim Sha beach, there are beach parties when the sun goes down.  Try the Roxy or Buccaneers Beach Bar or the Greenhouse, for live music, dancing, and great food.  It is just a few steps away from Simpson Bay and near the draw bridge that lets the yachts into Simpson Bay Lagoon. You will find water sports, and a playground for kids.
Baie Longue Beach
French Side – Caribbean Sea
It lives up to its name, about a mile long, crescent shaped and beautiful. Belmond La Samanna Resort and Spa, the world-famous deluxe resort, occupies the Eastern end of this gem of a beach and numerous private villas occupy the Western end. It is very private, quiet, and secluded, and hard to find.  Enter through the guard shack at the entrance to the French Lowlands and ask for directions. Bring beach towels, an umbrella and have a great day! No beach bar & no shade! Just sunburn and serenity!
Plum Baie Beach
French Side – Caribbean Sea
Still the best kept secret on the island! Plum Beach may be the finest beach on the island. Why? Because few people know it's there! A small quarter-moon shaped sandy white beach with exquisite views of the Caribbean located at the most Western end of the island in the Terres Basses area; or, as they say in my old neighbourhood, "the high rent district." The beach is secluded, private, serene, and mostly populated by people from the surrounding villas and savvy travellers.  Enter through the guard shack at the entrance to the French Lowlands and ask for directions. The beach is lined with gorgeous villas. Bring beach chairs and umbrellas. No beach bar & no shade! Just sunburn and serenity!
Baie Rouge Beach
French Side – Caribbean Sea
Still one of my favourite beaches, but it has become a little more crowded. Now, the beach is populated with tourists from France and South America, as well as Americans and everyone else. It is a crescent shaped, mile long, mostly narrow beach with numerous rock formations caressed by crystal clear water and moderate waves. Snorkelling is said, to be very good. The Eastern end of the beach is wider with a few trees to shade the sun and a magnificent cove with stairs built into the rocks climbing up 40 feet where a fabulous villa sits in majesty over the water. There are no hotels or resorts.  But there are beautiful private vacation rental villas, which can be rented from villa rental companies. At At the entrance to the beach, Augustin "Gus" Arrondell, a local, and his friendly staff set up Gus' Beach Bar. This is an open-walled bar/barbecue stand where you can enjoy tasty grilled chicken & ribs, beer, soda, and other lunchtime favorites. You can also rent beach chairs, umbrellas, rafts, and snorkelling equipment at reasonable rates. There are two bars on the beach.
What is the perfect time to book St. Martin vacation rentals?
The prime time for this Caribbean island is the winter season from mid Dec -mid Apr. Rates are at their highest between Christmas and Easter.  If you are looking for the best value time to visit St. Martin, try the shoulder seasons of April – June or November- December.  This time offers the best rates with promotions on many properties.  The island off-season is also the hurricane season, with the peak in Sept – Oct, so keep in mind to check the weather before making your trip during this time.  Many restaurants and small hotels are closed in Sept-Oct.
Decide when you would like to travel and fix your date. If you are flexible with your travel date, it will be easier to find the vacation rental.  You can book in advance with a deposit and the balance due prior to your arrival.
Restaurants on St. Maarten
If you are a great food lover, then St. Martin is the best place for you. The island has over 300 culinary restaurants that serve gastronomical delights. Most of the chefs make lavish meals that indeed makes your mouth water. It is the main reason that vacationers return again and again.
In addition to the many gourmet restaurants, there are Lolos and Food trucks, which serve great affordable local food, that will satiate your taste. Don't forget to visit them.
Nightlife in St. Martin
If you want to enjoy the nightlife in St. Martin, casinos, bars, nightclubs, entertainment, and live music venues are just waiting for you. On this small island, you can do lots of things in the dark to enjoy the nightlife. After the sunset, many casinos, bars, and clubs are open till the wee hours. Simpson Bay in the south offers beach barbeques, local music, salsa dance, and cocktails to enjoy the nightlife.
As the sun goes down, downtown Phillipsburg entertains on the board walk with restaurants and bars. You can enjoy the lively cultural festivals of St. Martin. Carnival, St Martin Music Festival and the Heineken Regatta are just a few of the major events.  You might want to spend the early evening at Sunset Bar and Grill, which is famous for live music under the stars.
Things to do in St. Martin!
On this small island, you will get confused about what to do or not. Well, St. Martin is not only famous for its tourist attractions and cultural food, but they are quite famous for adventurous activities. During the day, you can do lots of activities if you wish. Tourists love to do some popular activities such as snorkelling, scuba diving, hiking, horseback riding, windsurfing, mountain biking on their vacation. But then there are those of us who just enjoy a cool drink by the pool or beach with a great book. Just because all those activities are available, you can do what you want.  No pressure.
In Short
The island of St. Martin has cultural diversity, beautiful beaches, and a vibrant landscape and an active night life. It is the perfect destination for a vacation, with so much to choose from, you will want to return again and again. It has heritage sites, historical attractions, restaurants, and bars to attract tourists. You will not need to worry about finding accommodation as vacation rentals are the perfect option that makes your trip enthralling.  So, are you ready to embark on your vacation to St. Martin?